Nacho Burger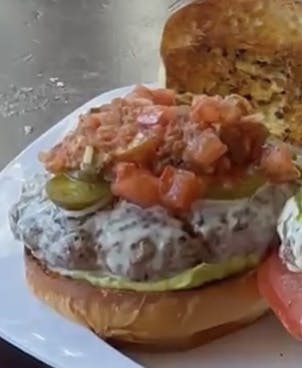 Ingredients:
8oz Meat House Burger
4 oz Queso Melt Cheese
2 oz of Jalapeno
2oz of Meat House Fire Roasted Salsa
2 oz Meat House Guacamole
Brioche Bun
Directions:
Season The Burger with Salt and Pepper and Flatten the burger out a little bit. Let sit at room temperature for 20 minutes.
In a Non Stick Pan or Cast Iron Skillet, Cook the burger on Medium-High Heat for 8 Min a side.
When the burger is ¾ of the way done pour the queso cheese on top on the burger.
Toast the Brioche Bun.
When the Burger is Done, Spread the Guacamole on the bottom of the bun.
Put The Burger on the Bun, Top with Jalapenos and Salsa. Close the Bun.
Enjoy with Sweet Potato Fries and Cold Hazy IPA.