Goat Cheese Double Stack Burger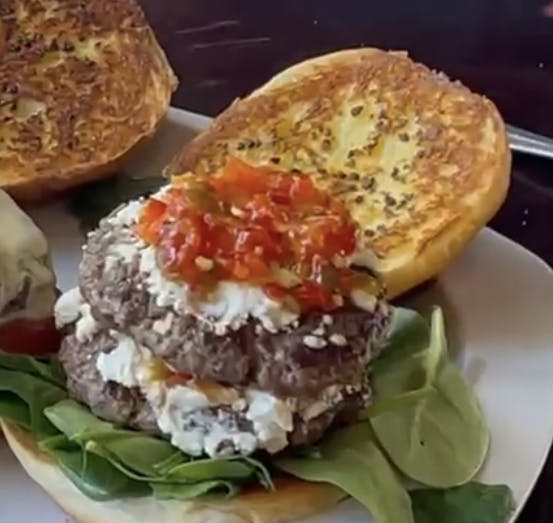 Ingredients:
(2) 4oz Meat House Burgers
2oz Crumbled Goat Cheese
2oz Hot pepper Relish
Small Handful of Baby Spinach
1 Brioche Bun
Directions:
Flatten the Burgers out a little bit so they cook quicker.
In a Non-Stick or Cast Iron Pan, Cook the Burgers on Medium-High Heat for 7 minutes aside.
When the Burgers are flipped once. Put the goat cheese evenly on each burger so it can melt.
Toast your Brioche Bun.
Once the Burgers are Done, Put the spinach on bottom half of bun.
Put one burger on top of spinach and spread 1oz of Hot pepper relish on top, put the second burger on top and spread the rest of the Hot Pepper Relish on Top.
Close the Bun! Enjoy with Rosemary Fries and a nice IPA.