Caprese Burger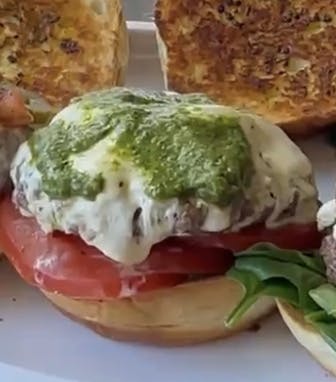 Ingredients:
8oz Meat House Burger
Fresh Mozzarella
2 oz Basil Pesto
3 Slices of Tomato
Directions:
Season the Burger and Flatten the burger out a little bit. Let it sit at room temperature for 20 min.
In Non Stick Pan or Cast Iron Skillet. Cook the burgers on Medium-High Heat for 8 Min a side.
When the Burger is ¾ of the way done, Put the Fresh Mozzarella on top to melt the cheese.
Toast The Brioche Bun.
When the Burger is done. Put 1oz of the Basil Pesto on the bottom of the bun and put the tomato on the bottom of the bun.
Put The Burger on the Bun and Put the rest of the basil pesto on top of the burger.
Close the Bun.
Enjoy with Truffle Fries and a Nice Pinot Noir.